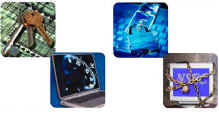 1. Physical Security
MDF will be in it's own room with look and a locked closet.
IDF will be inside locked case in each room.
2. Computer Authority
Default User name for staff is " Staff" and password is "1234"
· Default User name for student is " student " and the password is "1234"
· The window will prom user if he/she want to create an account.
3. Account Setting
Staff: teacher, faculty
Have privilege to Internet, install, download, must notice admin before install or download.
Right to use any computer and other devices belonging to the school.
Any personal computer or device from outside of school must be notified to Network Administrator before use.
· Student: all student
No download or install ability.
Yes: to all applications n desktop,
Staff will have the privilege to install hardware and software with a notice to Network Admin.
Staff User name is "lastname.firstinitial" no space between. If same lastname occurs use first two.
letter of the firstname.
Staff Password must be created by user, using letter or number or both. Password will have the
minimum length of 7 character.
Password setting change every 90 days.
Student User name is their ID number
Passwo8rd is created by Network Administrator with the minimum length of 5 character using
letter or number or both.
Password setting change every 160 days.
4. Internet Security:
Student and Staff.
Royal Palm Acceptable Use Agreement form must be sign and return before using the computer.
Network Administrator will regulate by written contract and use any program to help secure the
Network functionality.
Block out any un-educational or unnecessary website.
No download or install software unless permitted authorize personnel: teacher, staff, and faculty. If
the personnel do so, the he/she will be responsible for disruption or damage to the computer and
the network.
No Personal use: chatting email, game etc...
Only staff can.
5. Data Backup
· Data will be automatic backup by server using PowerVault 120T
External 20/40GB DLT-400 Autoloader Rack-Mount Version.
· Friday Evening Full Backup
· Monday through Thursday Increment Backup.
· Fire and Water hazard are considered.